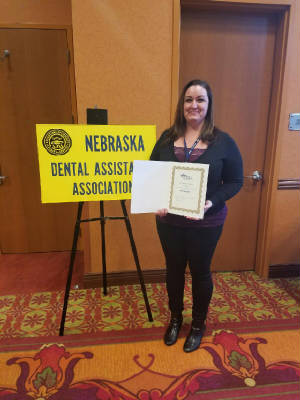 Congratulations Erin Russell!!
Education for 2017 - 2018
November 14, 2017 at Kiess Kraft Lab, 6:30pm meeting and 7 pm
Andrew Coughlin, MD, FACS
HPV and Oral Cancer
Dr. Coughlin was born and raised in Council Bluffs, Iowa and graduated Valedictorian from St. Albert High School. He received his Undergraduate degree at Nebraska Wesleyan University with a Bachelor of Science in Biochemistry and Molecular Biology, where he received highest distinction upon graduation. Dr. Coughlin next attended the University of Nebraska Medical Center for his medical degree, again graduating with distinction. In 2004 he was accepted into the Otolaryngology-Head and Neck Surgery residency program at the University of Texas Medical Branch at Galveston. Dr. Coughlin is now part of the Otolaryngology - Head and Neck team at the Nebraska Methodist Hospital Estabrook Cancer Center specializing in head and neck cancer, extensive reconstructive surgery as well as skull base disorders.
February 6, 2018 at Kiess Lab, 6:30pm meeting and 7pm
Blood Bourne Pathogens
Speaker Peggy Prinz Luebbert, APIC Consulting
March 13, 2018 at Kiess Kraft Lab, 6:30pm meeting and 7 pm
Student Night
Considerations when serving people who are deaf or hard of hearing.
The presentation will focus on how you can work with people who are deaf and hard of hearing, and what things you should considering about such as provide an effective communication, understand their culture and different needs, and the common type of communication modes.
Speaker - Carly Weyers, Behavioral Health Coordinator
Nebraska Commission for the Deaf and Hard of Hearing
April 26 and 27, 2018
NDAA Annual Session
Embassy Suites, La Vista, NE
May 8, 2018
Social Night/Installation of Officers, 6:30pm meeting - Location TBA
---