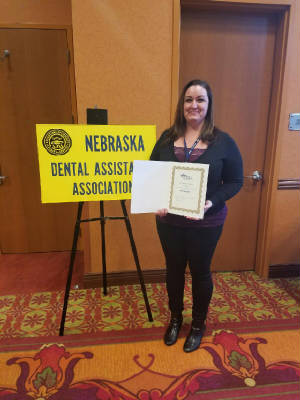 Congratulations Erin Russell!!
Education for 2017 - 2018
March 13, 2018 at Kiess Kraft Lab, 6:30pm meeting and 7 pm
Student Night
Considerations when serving people who are deaf or hard of hearing.
The presentation will focus on how you can work with people who are deaf and hard of hearing, and what things you should considering about such as provide an effective communication, understand their culture and different needs, and the common type of communication modes.
Speaker - Carly Weyers, Behavioral Health Coordinator
Nebraska Commission for the Deaf and Hard of Hearing
April 26 and 27, 2018
NDAA Annual Session
Embassy Suites, La Vista, NE
May 8, 2018
Social Night/Installation of Officers, 6:30pm meeting - Location TBA
---